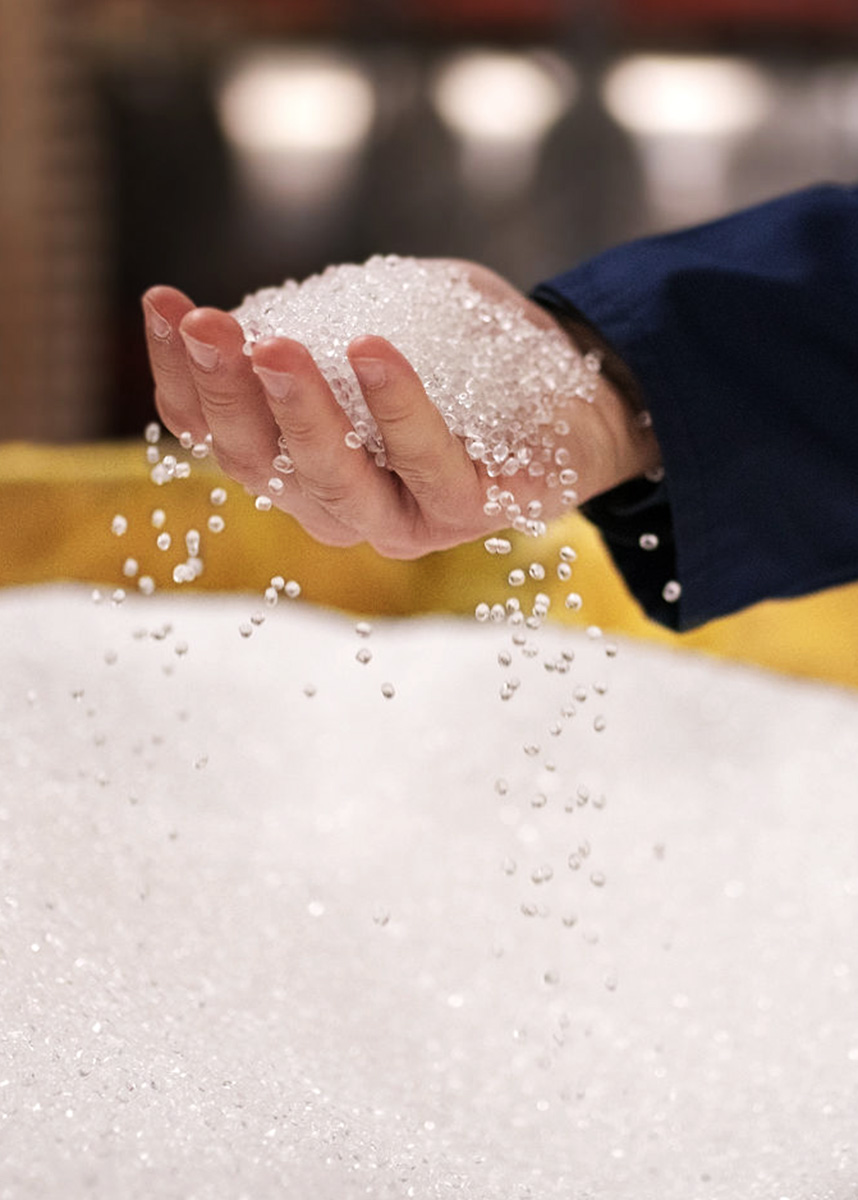 Polyethylene is a unique material offering a number of advantages. Polyethylene film increases the shelf life of many groceries. Polyethylene is lightweight, which makes it beneficial for different packaging solutions and increases transport efficiency.
Polyethylene is often made from fossil materials, but the development in recycled and non-fossil materials is constantly increasing. Kullaplast will be happy to help you develop packaging that is of high quality while also having a lower carbon footprint.
Examples of how you can make your packaging solution more eco-friendly include: 
Replacing all or some of your packaging with fossil-free or bio-based materials.
Increasing the use of recycled materials.
Avoiding the use of different materials in your packaging so that it can be recycled by consumers.
Avoiding or reducing the use of graphic print on packaging.
Informing your customers how to sort your packaging for recycling.
Kullaplast's environmental and sustainability work
We invest in the future.
Completed projects 2023
– In 2023, our solar cell plant consisting of about 750 solar panels was commissioned on an area of 1600 square meters. Now we can produce a significant amount of green energy, 380MWh annually!
– Installation of a new treatment plant with a very high degree of purification. This streamlines the flow and ensures that any emissions from our production are almost non-existent.
Through our investment in solar energy and modern technology, we reduce our climate footprint, contribute to more sustainable products, and take another step in our environmental and sustainability work.
In our production development, we strive to reduce the amount of material used in our products, for example by manufacturing thinner plastic film. All our waste material is recycled and put to good use in new products.
We are affiliated with Näringslivets Producentansvar, which means that Kullaplast take environmental responsibility for its products.
Kullaplast has been awarded a silver medal by EcoVadis, a leading and reliable sustainability ranking for companies. The award is based on a comprehensive review of our work in the areas of environment, ethics, labour law, human rights and sustainable procurement.
Kullaplast is certified according to SS-EN ISO 14001:2015.
ISO 14001 help us minimize the negative impact our work processes have a on the environment (impact on air, water, and land). It is a proven environmental management system that drive us to continuous improvement based on environmentally adapted processes and acts as a guide when it comes to living up to environmental laws and requirements that exist for our business.
CSR Silver rating by Ecovadis
ISCC certificate, renewable and recycled raw materials
ISO-14001.2015 Certificate